All in One Panel PCs
Automation Combine Panel PCs is an All-in-One Compact design Panel PCs featuring an IP65 aluminum front panel and Operated with a wide temperature range.

Rack Mount PCs
Industrial rackmount computers with the utmost professionalism and quality assurance service. The rackmount computers are fully customizable and offer an extensive range of features with size includes 2U, 4U Racks.

Box PCs
Compact box PCs are designed for a wide range of automation tasks – from simple data acquisition to complex IoT and edge applications.

Industrial Monitors (Touch)
Industrial Monitors provide a wide range of reliable displays from 10″ to 21.5″. Industrial monitors including open frame monitors and panel mount monitors, which work perfectly with embedded boards and systems to fulfill various application needs.

Machine Vision Systems
Machine Vision Series is designed to enhance and optimize automation operations in harsh factory environments, offering dynamic, smart and flexible configuration for vison-based single board systems.

Ultra Slim Box PCs
This series is ultra-slim embedded controllers at just 20mm (0.79") thickness. This slim design enables the series to be installed in space constrained locations.

Rugged Tablets
Rugged Tablet Computers offer multifunctional, military-grade design built to endure the harsh work environments of industry, whether indoors or outdoors. Rugged Tablet PCs are IP-rated and MIL-STD-810 tested, proven tough and capable of keeping up with work.

IoT Gateways
IoT gateways are designed for users wishing to implement the IoT concept to a various indoor and outdoor environments. From the inside of a control room to a moving vehicle, IoT can be made available to anyone, anywhere with AIOT gateways.

Embedded Single Boards
Single Board Computers (SBCs) provide users with a wide range of powerful, compact, and flexible options, with both x86 and ARM-based platforms in various form factors.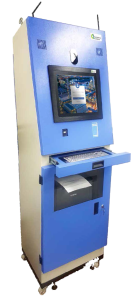 Industrial Kiosk
Our Industrial Kiosk are most suited for industrial type environments where a hardwearing, durable solution ie required, such as station and ware houses. With additional benefits o a toughened glass frontable and solid base design, the Kiosk is easy to clean & Maintain.
Available with or without keyboards, this industrial Kiosk is flexible enough for use in most environment and has a host of optional extras that can be added to increase its functionality.